Availability for Owner Bonus Time is subject to change. *Note: Dates further out may be available; please contact Reservations.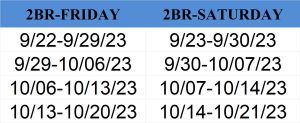 IMPORTANT NOTICE: the Cooper pool and spa area will be closed for major construction renovations starting May 15, 2023, through October 31, 2023; this project will also include the public restrooms, building, covered pavilion and BBQs. The Valentino pool and spa area will remain open during the project.
*Please call Reservations for more information: (858) 792-0904 Mon-Fri 9am-3pm Pacific time (closed 12-1) or email : vlm@vlmci.com
Resort Office Hours for Summer Season:
Monday – Saturday: 8:00AM – 5:00PM with midday lunch closure
CLOSED SUNDAY.
On Sunday or after hours for late arrival check-in, please pick-up the courtesy phone inside the cabinet at the Resort Office for assistance or call 760-342-8394. Be sure to let the phone ring, as it forwards to an available number. 
No contact check-in is available, please email ipitimeshare@gmail.com to request it.
Absolutely NO pets are allowed on the premises during your vacation. Nor are the pets of owners' guests allowed at any time. Violation of this rule will result in incurred additional cleaning fees and/or possible expulsion from the resort. In addition, the pet must be removed immediately upon discovery.
All Interval units have been designated as 'Non-Smoking' accommodations. We do not allow smoking in any unit or common areas, including pool and bar-b-que areas. Please follow this policy as a $150 fine will be incurred per violation of this policy.